FULLET Cooler Wheel Kit for Yeti & RTIC Cooler Carts 12 Inch Wheels & Ratchet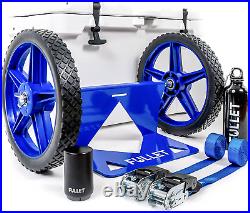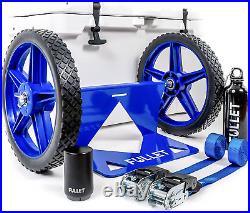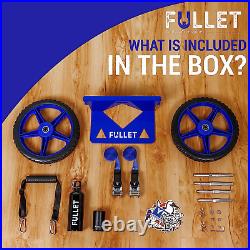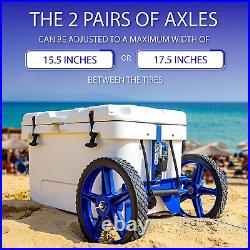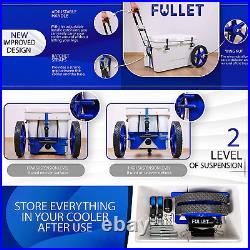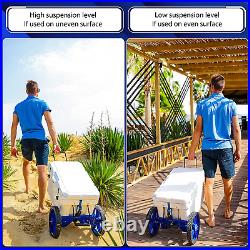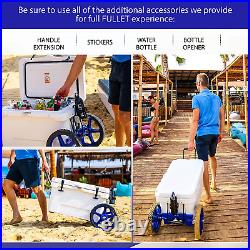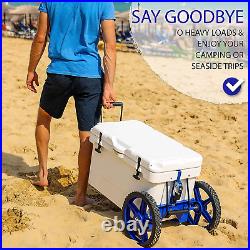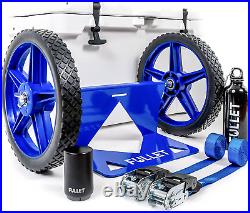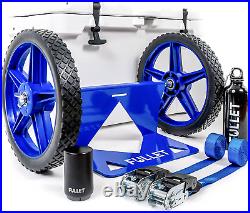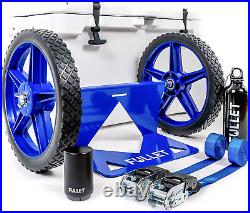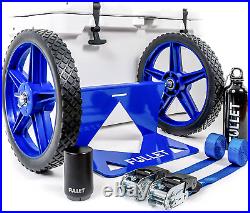 A Must Have for Outdoor Enthusiasts: Say goodbye to heavy loads and exhausting pulls during your camping or seaside trips. With the FULLET wheels for coolers your problems are solved.

The 12 wheels will help roll your cooler smoothly whenever you need it! Perfect Fit and Usability: Unlike similar products on the market, this cooler cart kit accommodates most coolers up to 17.5 inches wide. The 2 pairs of axles can be set to the maximum width of 15.5 to 17.5 inches between the tires. Mounting Hardware Included: This cooler wheel set includes all needed mounting hardware for a user-friendly and hassle-free installation that only lasts a few minutes! The 2 extra slots of the base allow you to place the cooler higher or closer to the ground, depending on your needs.

What You Get: The FULLET 12-inch wheels include all needed cooler accessories for a complete and rewarding experience! In addition to the cooler wheel kit you will receive a water bottle, bottle opener, stickers and handle extension for easier carrying! Heavy Duty Construction: These cooler cart accessories are made using premium grade, highly durable materials, a combination of powder coated steel frame on zinc plated steel axles with polyester ratchet straps, designed to withstand the test of time regardless of weather conditions. FULLET is a premium brand that focuses on delivering unique and price affordable camping gear & accessories which are meant to make your life easier and more comfortable, without interfering with your safety. We rely exclusively on premium heavy duty materials and trustworthy suppliers, in order to meet our customers' rigorous quality expectations.

Our customer care department is at your disposal and will address any concerns! Cooler Wheel Kit with Stainless Steel Frame, Durable Ratchet Straps and Multiple Accessories The FULLET axle strap wheel kit for cooler perfectly combines functionality with durability, allowing you to enjoy the party without the complicated lifting and possible injuries! With smart features that make lifting easier than ever, incredibly sturdy in its construction, plus multiple useful accessories that will surely come in handy at any event, this cooler wheel set is your no 1 companion during pool parties, RV camping accessories, and more! Here are some of the amazing features of these cooler wheels: Set includes: 2 x wheels, steel frame, all the necessary hardware to mount it, 2 x ratchet straps, 4 x axles; Additional bonuses: water bottle, bottle opener, cup holder which is easy to attach to their cooler, stickers & handle extension so you can carry the cooler even easier; 2 extra slots allow you to place the cooler higher or lower from the ground; Cooler cart accommodates most coolers up to 17.5 inches wide; 2 pairs of axles can be set to the maximum width between tires, which is min 15.5 inches or max 17.5 inches; Holding capacity: 250lbs; Material: powder-coated steel frame on zinc-plated steel axles and polyester ratchet straps; Ideal for camping, picnic, parties and special events.

Keep your drinks cold with this hassle-free wheel cart kit!