NEW Yeti Hopper Flip 18 Soft Cooler Navy (S20-YFLIP18-CRL)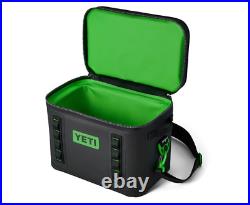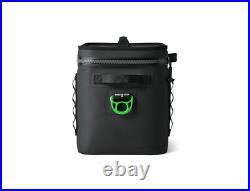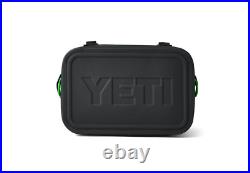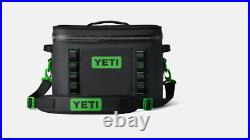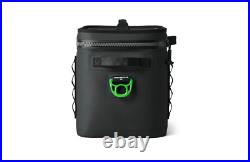 The weekend is young, so pack up your new Hopper Flip 18 and head for the hills. The bigger build suits your larger hauls and longer expeditions. Set out with your lunch while you work for your dinner and have a couple cold ones to kick back with after. The Hopper Flip 18 is durable, leakproof and versatile with the HitchPointT Grid for tools and accessories.

And like all YETI coolers, it's equipped with superior insulation to keep the cold for days. Outside Dimensions: 17.7 in. L x 11.5 in.

W x 12.8 in. Inside Dimensions: 14.6 in. L x 8.7 in. Empty Weight: 4.5 lbs.

Capacity: Holds 30 cans (only) or 28 lbs. HYDROLOCK ZIPPER Wide, flip-top opening with leakproof HydroLokT zipper allows easy loading and access. COLDCELLT INSULATION Closed-cell foam offers impressive cold-holding capabilities, helping keep your frosty goods ice cold. DRYHIDET SHELL High-density fabric withstands punctures and UV rays. To help extend the life of the Hopper Flip 18 soft cooler, both the interior and exterior materials are treated to be mildew resistant. HITCHPOINTT GRID Securely attach your Side Kick Dry® Gear Case or load it up with the YETI Molle Bottle Opener, Molle Zinger, or other multitools. WARNING: DO NOT LEAVE YOUR SOFT COOLER OPEN IN THE PRESENCE OF CHILDREN AND ANIMALS.

ENTRAPMENT AND SUFFOCATION CAN OCCUR. WARNING: HOPPER® SOFT COOLERS ARE NOT COMPATIBLE WITH DRY ICE. USE OF DRY ICE WILL CAUSE AIRTIGHT VESSEL TO EXPLODE. WARNING: THIS PRODUCT CONTAINS MAGNETS. PLACING NEAR A PACEMAKER MAY CAUSE INTERFERENCE.