Yeti Hopper BackFlip 24 Soft Sided Backpack Cooler Charcoal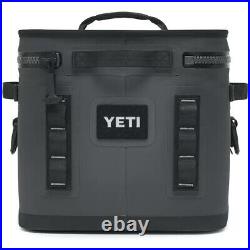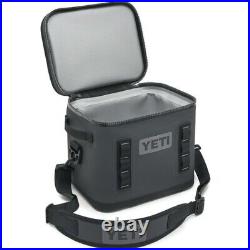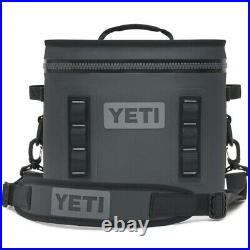 Introducing the Yeti Hopper BackFlip 24 Soft Sided Backpack Cooler in Charcoal, a game-changing companion for outdoor enthusiasts and adventurers who demand both versatility and performance. This innovative cooler backpack seamlessly blends rugged durability with the convenience of a backpack, allowing you to keep your refreshments icy cold while on the move. Built with the legendary Yeti toughness, the Hopper BackFlip 24 is constructed from high-density fabric and features a robust HydroLok zipper. It can withstand rough terrain, weather conditions, and whatever challenges nature throws your way, ensuring your precious cargo stays protected.

This soft-sided backpack cooler boasts ColdCell insulation technology, keeping your beverages and snacks chilled for extended periods. It's the ideal choice for day hikes, camping trips, fishing excursions, or any adventure that demands refreshments that stay cold, no matter how far off the beaten path you wander. With a 24-liter (or 20-can) capacity, the Hopper BackFlip 24 offers ample space to carry everything you need for a day outdoors. It can accommodate enough drinks and snacks for you and your crew, making it perfect for group outings or solo adventures. Carry your essentials hands-free with the comfortable and adjustable shoulder and chest straps. The ergonomic design distributes weight evenly, making this cooler backpack comfortable for extended journeys. The Yeti BackFlip design ensures you can access your beverages or food without removing the backpack, making it easy to stay hydrated and fueled throughout the day.

The HydroLok zipper is not only incredibly durable but also 100% leakproof. This feature gives you peace of mind knowing that your cooler won't accidentally spill its contents, even when the terrain gets rough. When your adventure comes to an end, cleaning up is a breeze. The interior lining is FDA-approved and food-safe, making it simple to wipe down and maintain. The Charcoal color adds a touch of sophistication to your outdoor gear while also helping to repel heat, ensuring your contents stay cold.

The Yeti Hopper BackFlip 24 Soft Sided Backpack Cooler in Charcoal is your go-to solution for keeping your beverages and snacks cold, no matter where your adventures take you. Whether you're hiking, biking, camping, or simply enjoying a day at the beach, this cooler backpack combines rugged durability with wearable convenience, making it the ultimate choice for those who refuse to compromise on quality. Elevate your outdoor experience with the Hopper BackFlip 24.