Yeti Hopper M30 RARE Soft Cooler Aquifer Blue Teal Seafoam Magnetic Opener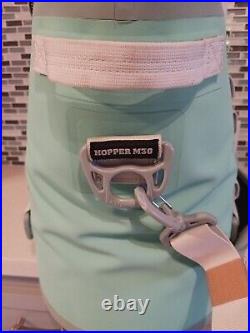 This Yeti Hopper M30 in Aquifer Blue is a rare find in the world of soft coolers. With a 30L capacity, it can hold up to 12 bottles and is perfect for a beach, fishing, camping, or hiking trip. Its collapsible feature makes it easy to store, while the magnetic opener adds convenience. The cooler is 25 inches tall, 17.5 inches deep, and 12 inches wide, providing ample space for your drinks and food.

Only used it once camping is dirty where the handles and the bottom but super clean on the inside. The Yeti Hopper M30 in Aquifer Blue is suitable for any outdoor adventure that requires a reliable cooler.

Its brand name and model speak for themselves, assuring you of its quality and durability. The cooler is a must-have for anyone who enjoys spending time outdoors and wants to keep their food and drinks fresh and cold.