YETI Tundra 65 Cooler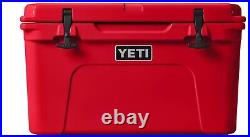 The YETI Tundra 65 is just as adept at keeping your catches cold in the field as it is storing the drinks and food for your backyard barbecue, this ice chest is plenty roomy, holding a limit of redfish or your prized brisket. Outside Dimensions: 30.8 in. L x 17.3 in. Inside Dimensions: 23.3 in. L x 10.7 in. W x 11.3 in. Empty Weight: 30.3 lbs. PermaFrostT Insulation is pressure-injected commercial-grade polyurethane foam that delivers ultimate ice retention. Rotomolded construction is extremely durable and strong. FatWallT design has extra-thick walls that hold up to 2 inches of insulation. ColdLockT Gasket blocks out heat and seals in the cold. T-RexT Lid Latches are heavy-duty rubber with patented technology for top security and durability. InterLockT Lid System provides a tight barrier against the heat. DoubleHaulT Handles are made of military-grade polyester rope. AnchorPointT Tie-Down Slots make it convenient for mounting cooler to your vehicle, boat, or trailer. NeverFailT Hinge System has 2 hinge pins and an interlocking design to prevent breakage.

LipGripT handles allow easy carrying. VortexT Drain System screws in for a leak-proof design and allows for easy draining. BearFootT Non-Slip Feet reduce slippage and cooler movement.

Includes one dry goods basket.