Yeti V Series Stainless Steel Cooler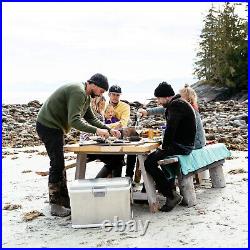 Brand new in the Box! This innovative ice chest is the most iconic way to chill nearly 50 cans of beer or keep oysters and Alaskan king crab legs on ice. Fits 64 lbs of ice (only). Fits 23 Wine bottles only.

Stainless steel body design to protect against wear and tear. Stainless steel latch loop that is designed to be durable and easy to use. Cast aluminum hinges that are built to last.

Deep seal drain plug made to be leakproof and quick to use. Vacuum insulated panels on all sides, including the lid. Uses the same cold holder power in the Rambler® drinkware. Please see my other Yeti listings, thanks for looking!